GBPAUD like any other GBP pair makes nice price movements for good profits. If you are FX trader all GBP pairs should be on your watch.
No matter what time frame you choose, the same rules apply. The Method and therefore ARES respects all strategy rules and provides trading opportunities on all time frames.
https://twitter.com/fximperija/status/727247372405846016
The first trade has been performed on the 1 hour time frame after price finished the whole bullish impulse sequence with the wave 5. This shows a very aggressive entry on a bearish harami candle formation with very small risk just above the wick of the wave 5 top. Being aggressive pays off since the entry has such small risk and position size might be larger.
The thick blue line on chart represents the level of control where the price has been most of the time. Breaking below this level the price will look for the very next support level which in this case is much lower. The potential harmonic shows the possible target right in the previous support structure.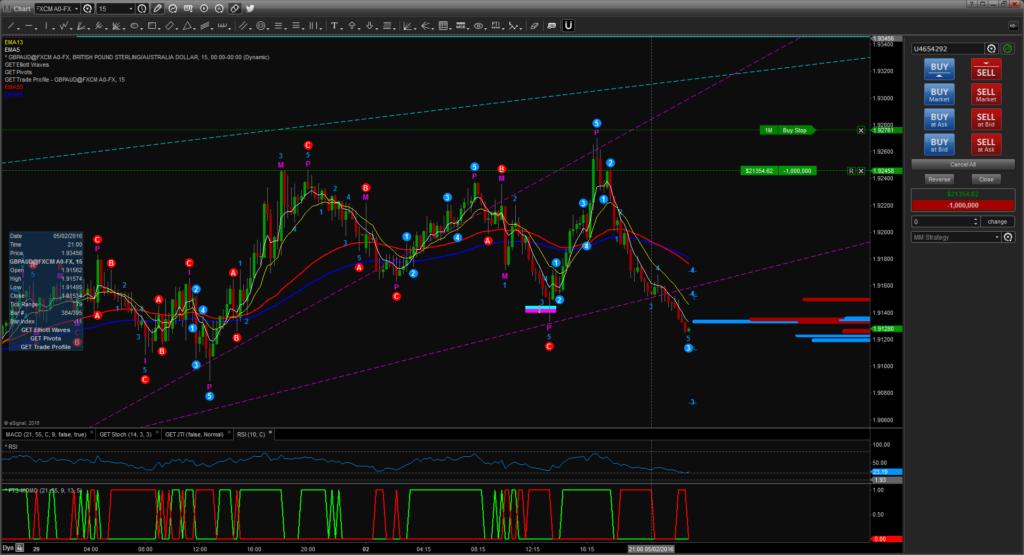 Another short-term scalp on the 15 minute time frame similar to the above mentioned. Same play on wave 5 top but at wave 2 pull back high confirming the bearish sequence. Very often after an evening star candle formation (wave 5 top) a retrace occurs, in this case from wave 1 into wave 2. Less aggressive entry still providing smaller risk. A more conservative entry would have been on the bearish engulfing candle after the wave 2 pullback but with significantly higher risk and therefore smaller position.